Possessing a highly experienced, friendly and knowledgeable team focusing on cost effective reliability centered maintenance solutions for our clients. Holding an industry proven track record, proudly servicing Canada – coast to coast.
Teamwork is the ability to work together toward a common vision. The ability to direct individual accomplishments toward organizational objectives. It is the fuel that allows common people to attain uncommon results
Jaye Robinson – Founder and C.E.O.
Australian born and bred, Jaye moved to Canada in 2009 initially for one year but has not looked back and has since made Canada his home. Jaye officially founded Austech Industries Ltd. on November 16, 2011. He solely built the business from the ground up; first as a Heavy-Duty Field Mechanic, operating his own service truck in the Canadian Oil Sands, to growing it into the large-scale entity it is today.
From the inception of Austech Industries Ltd. to the current rebranding of ATI Canada, Jaye has been a pivotal factor in the company's stellar reputation which he earned first with his own two hands. Since then, he has since backed up this reputation by bringing aboard the best mechanics in the country.
Jaye is immensely involved with controlling, implementing, and overseeing the business' growth through all stages of the Oil and Gas and Mining industry's rapidly changing markets. With his vast dealership knowledge from Caterpillar & Sandvik, he has built this company into a leading competitor within the Canadian Mining Original Equipment Manufacturer's (OEM) and has since expanded operations across Canada.
Graydon Hooper – Director of Business Operations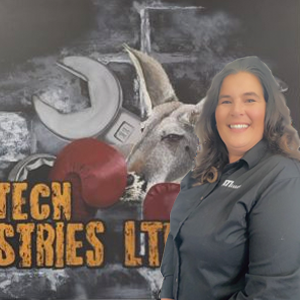 Janet Pardy – Northern Alberta Regional Coordinator
Born and raised in Fort McMurray, Janet Pardy has over 20 years' experience in the Oilsands. Janet started her working career in the Oilsands with Denesoline Environment in 2001 working in many different positions while she completed her CSO designation. In 2007, she made the move over to P&H Minepro Services for a change of scenery.
Over her 13 years of employment, she wore many hats starting as Receptionist, then moving to Service Administrator, Account Manager, and lastly the Warehouse Operations Manager.
Outside of work Janet enjoys being a mother to three sons, skidooing, camping, and entertaining friends and family.