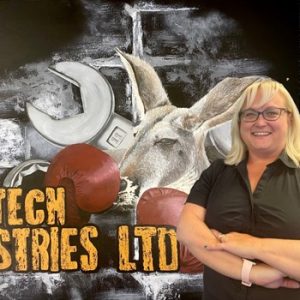 Jennifer Kolesar-Lafaut – Director of Business Operations
Jennifer joined ATI in the summer of 2022 as the Financial Controller and has quickly become an integral part of the management team. When Jennifer joined ATI, she brought with her over 20 years of industry experience to her new role. She managed the finance, purchasing and human resource departments of two manufacturing plants in the Calgary area. During that time, she assisted the organization's addition of a start-up facility and during her ten years in that position, she increased the organization profitability while developing process and procedures for improved operations and sustainability.
Previous to that role Jennifer also held various operational and accounting positions in the banking industry as well as distribution, transportation and waste management. Her desire to learn new businesses and a fondness for operational accounting allowed for unique opportunities and career growth. One of Jennifer's greatest attributes is her willingness to mentor, teach and guide her direct reports and co-workers. She is passionate about the teams she works with and feels that organizational success is achieved by each member working together to achieve the desired outcome.
When not at work, Jennifer likes to spend time with her husband and three boys. Many weekends are spent travelling to Edmonton to watch her oldest son play college basketball. When sports activities are not on the schedule, she enjoys travelling, camping, and walking her three miniature long-haired dachshunds.